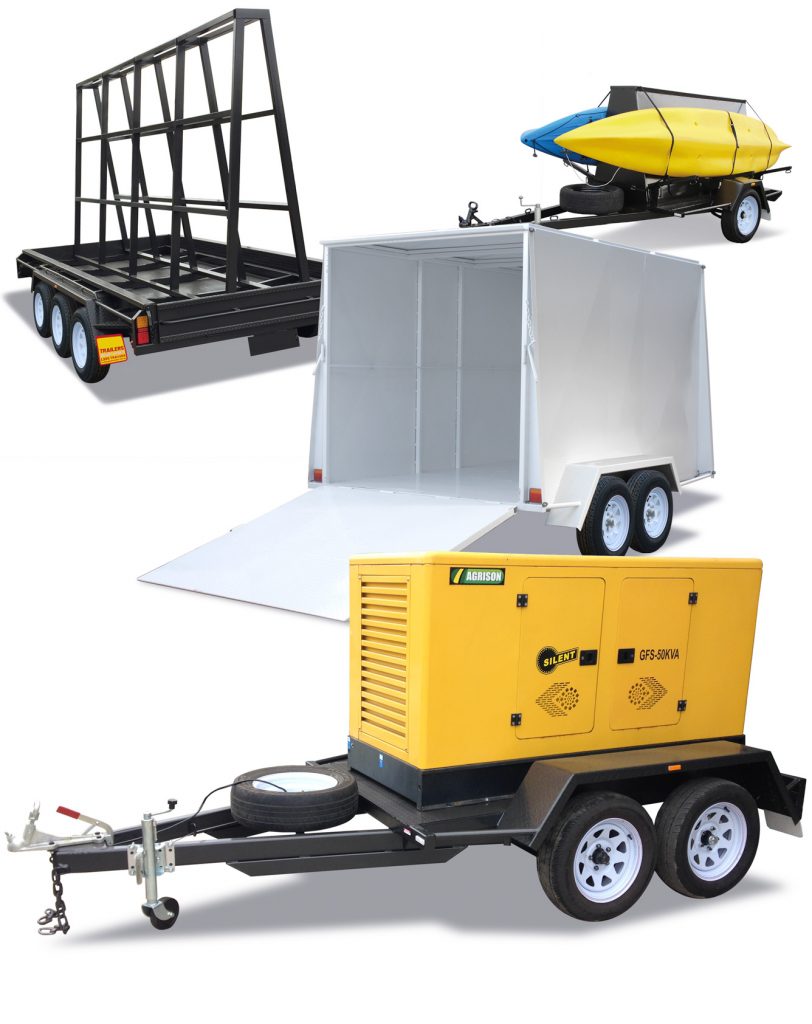 Custom
Custom Made Trailers in Gold Coast and Brisbane
Our team is equipped to tailor all products to align with the needs of our clients. Our custom trailer platforms are made specifically to your requirements and like all our other trailers: engineered with versatility in mind.
Choose A Custom Trailer That Meets Your Exact Design Requirements
We can build a trailer to your design criteria, be it a single, dual/ tandem, triple or quadruple axle layout; with a load rating of up to 4500 Kg GVM, add a cage, a tipper function, drop down ramp and LED lights across the entire rear, your imagination is the only limit.
You can choose from our entire range of optional extras, mix and match them along with your design to create the ultimate trailer.
Call us for an obligation free quote today
Whether you were interested in custom made box trailers, car carriers, cage, tipper or one of the many other variations we have available on the Gold Coast, Brisbane and the surrounds, get in touch with us today by calling 07 3806 2906. We're always happy to chat with our clients and can offer any further information on our product range to help give you peace of mind regarding your purchase.
Single Axle:
6′ x 4′ [1800 x 1200mm]
7′ x 4′ [2100 x 1200mm]
7′ x 4'6″ [2100 x 1370mm]
7′ x 5′ [2100 x 1500mm]
8′ x 5′ [2400 x 1500mm]
Dual/ Tandem Axle:
8′ x 5′ [2400 x 1500mm]
9′ x 5′ [2700 x 1500mm]
10′ x 5′ [3000 x 1500mm]
10′ x 6′ [3000 x 1800mm]
12′ x 6′ [3650 x 1800mm]
12′ x 6'6″ [3650 x 2000mm]
Single Axle: Up to 1500 Kg Gross Vehicle Mass [GVM]
Dual Axle: Up to 4500 Kg Gross Vehicle Mass [GVM]
Not Required up to 750 Kg GVM
2-Wheel Hydraulic 751 Kg GVM to 1990 Kg GVM
4-Wheel Electric with Break-away over 1990 Kg GVM
Hot Dipped Galvanised
Paint [Standard] – Charcoal, Silver, or Blue
Paint [Extra] – Red, Yellow, Green, Black or Custom
Tie Down Rails All Around
Jockey Wheel
Spare Wheel
New Sunraysia Style Wheels
New Tyres
Front Tailgate
Smooth Floor
Checker Plate Floor
Full Checker Plate
Rear Tailgate
Front Tailgate
Van Sides Open
Enclosed Van
Cage Rear Barn Doors Single Rear Door
Single Gullwing Doors
Double Gullwing Doors
Gas Struts for Side Doors
Rear Drop Down Ramp Door
Slide Under Ramps
Rear Drop Down Mesh Ramp
Dual Drop Down Ramps
Tie Down Rails
Tie Down Rails All Around
Flush Mount Anchor Points
Ladder Racks
Key Locks & Padlock Tabs
Internal Compartments/ Shelvingbr />Front Tool Box
Side Tool Box
Air Compressor Box with Ramp
Welder Box with Ramp
Mower Box with Ramp
High Sides (Up to 21″/ 530mm)
Geared Manual or Electric Winch
Jockey Wheel
Spare Wheel
New Sunraysia Style Wheels with New Tyres
Any custom feature to your specification