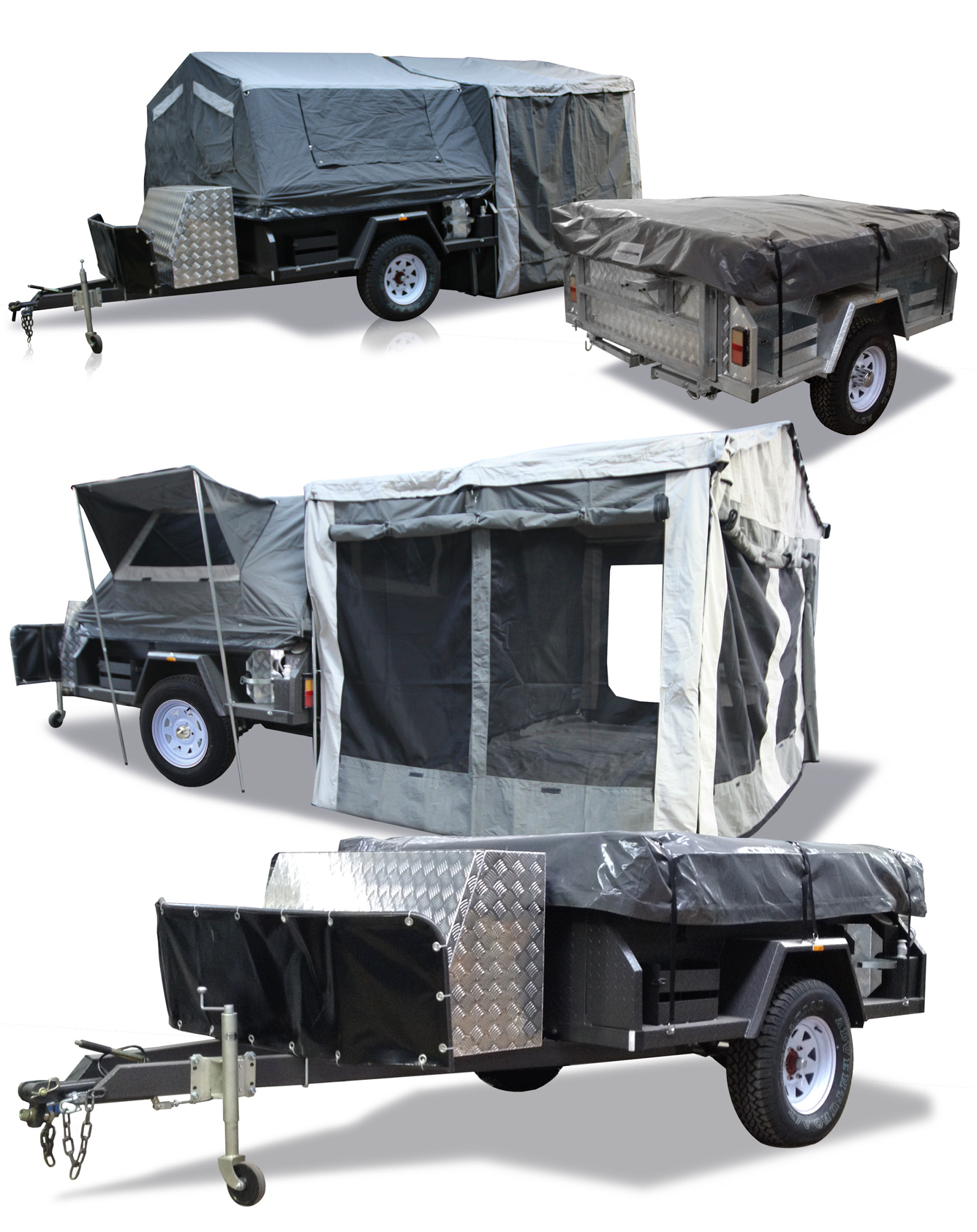 Camping
Camping Trailers
Trailers Down Under sells Camping Trailers in both on-road and off-road specification. The tent folds out from the trailer top revealing the double bed on top of the trailer and a landing/ room. Another room then attaches to this which is sealed with a floor, zip up walls and flyscreens. The off-road model incorporates integrated sliding drawers, a slide out kitchen sink and bench, and ladder racks for your boat, kayak/ canoes etc.
All the trailers at Trailers Down Under are engineered with versatility in mind so that you can customise your new trailer accordingly.
For your Camper Trailer, you may want to add a front tool box, spare wheel(s), Jerry Can Holders, Gas Bottle Holders, Bicycle Rack Mount and more.
6′ x 4′   [1800 x 1200mm]
7′ x 4′   [2100 x 1200mm]
7′ x 5′   [2100 x 1500mm]
Custom
Up to 1500 Kg Gross Vehicle Mass [GVM]
Not Required up to 750 Kg GVM
2-Wheel Hydraulic over 750 Kg GVM
Hot Dipped Galvanised
Paint [Standard] – Charcoal, Silver, or Blue
Paint [Extra] – Red, Yellow, Green, Black or Custom
RHS Chassis
Smooth Floor
Tent / Annexe
Fly Screens
LED Lights
Smooth Floor
15″(380mm) Sides
Rear Tailgate
Stabilisers
Water Proof Tent Cover
Front Tool Box
Annexe
Ladder/ Boat Racks
Bike Carrier Mount
Sink & Bench Top
Jerry Can Holders
Gas Bottle Holders
High Sides (Up to 21″/ 530mm)
Checker Plate Floor or Full Checker Plate
Jockey Wheel
Spare Wheel
New Sunraysia Style Wheels with New Tyres