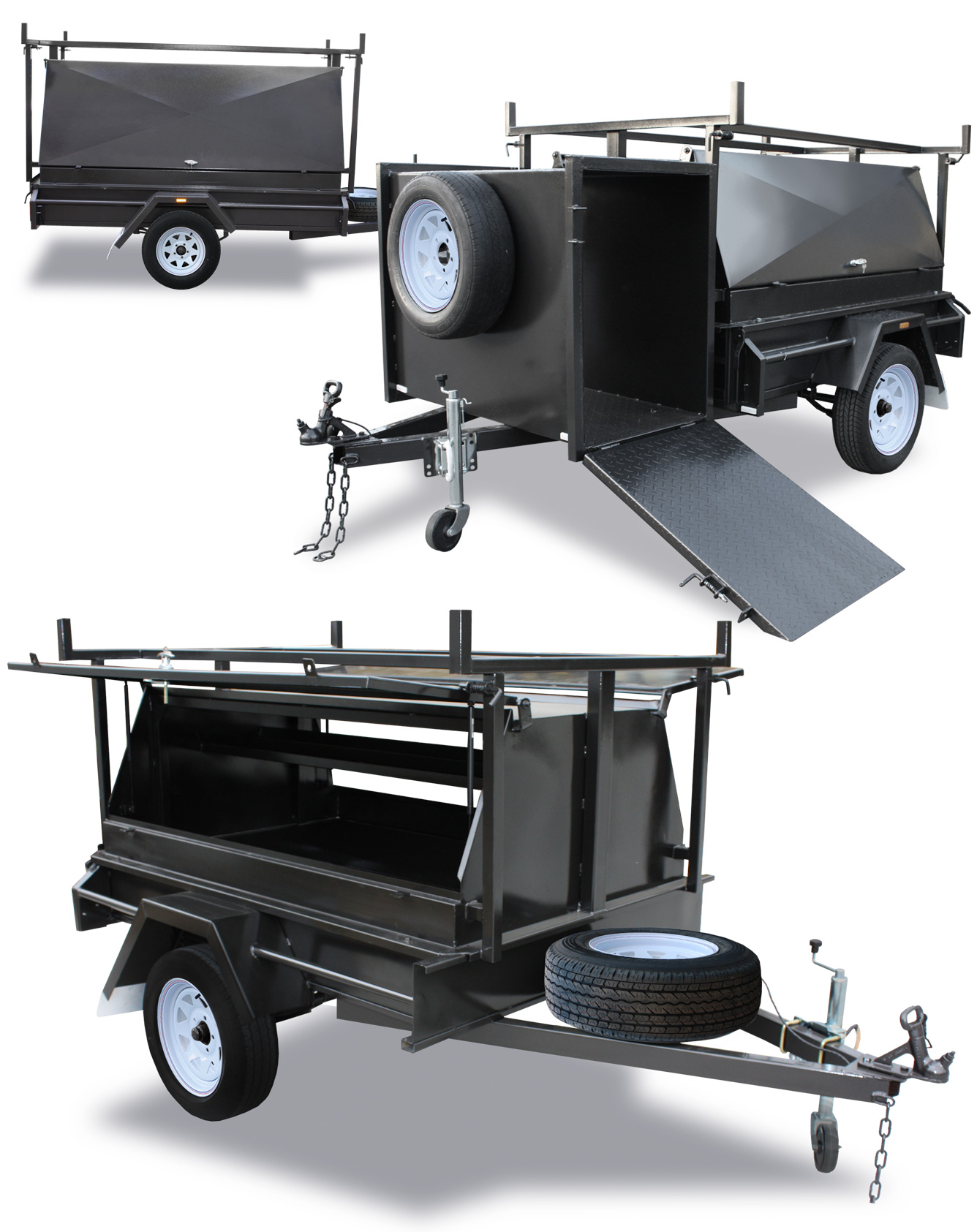 Tradesman
Single Tradesman Trailers
Trailers Down Under sells a range of single axle Tradesman Trailers to securely store and transport your tools of the trade. Suited to all trades including but not limited to Electricians, Plumbers, Painters, Gas Fitters, Concreters, Carpernters, Builders, Tilers, Brick Layers and Construction Site Contractors.
All the trailers at Trailers Down Under are engineered with versatility in mind so that you can customise your new trailer accordingly.
You can configure your new Tradesman Trailer for any application or add components such as a front toolbox, air compressor/ welder ramp & box, full ladder racks, gas struts for the side doors and more.
6′ x 4′    [1800 x 1200mm]
7′ x 4′     [2100 x 1200mm]
7′ x 4'6″ [2100 x 1370mm]
7′ x 5′     [2100 x 1500mm]
8′ x 5′     [2400 x 1500mm]
Up to 1500 Kg Gross Vehicle Mass [GVM]
Not Required up to 750 Kg GVM
2-Wheel Hydraulic over 750 Kg GVM
Hot Dipped Galvanised
Paint [Standard] – Charcoal, Silver, or Blue
Paint [Extra] – Red, Yellow, Green, Black or Custom
2ft [600mm]
2.5ft [750mm]
3ft [900mm]
RHS Chassis
Tie Down Rails
LED Lights
Smooth Floor
9″(230mm) Sides
Rear Tailgate
Ladder Racks
Key Locks & Padlock Tabs
Internal Shelf
Single Gullwing Doors
Front Tool Box
Full Length Ladder Racks
Air Compressor/ Welder Box with Ramp
Checker Plate Floor or Full Checker Plate
Front Tailgate
High Sides (Up to 21″/ 530mm)
Gas Struts for Side Doors
Tie Down Rails All Around
Jockey Wheel
Spare Wheel
New Sunraysia Style Wheels with New Tyres