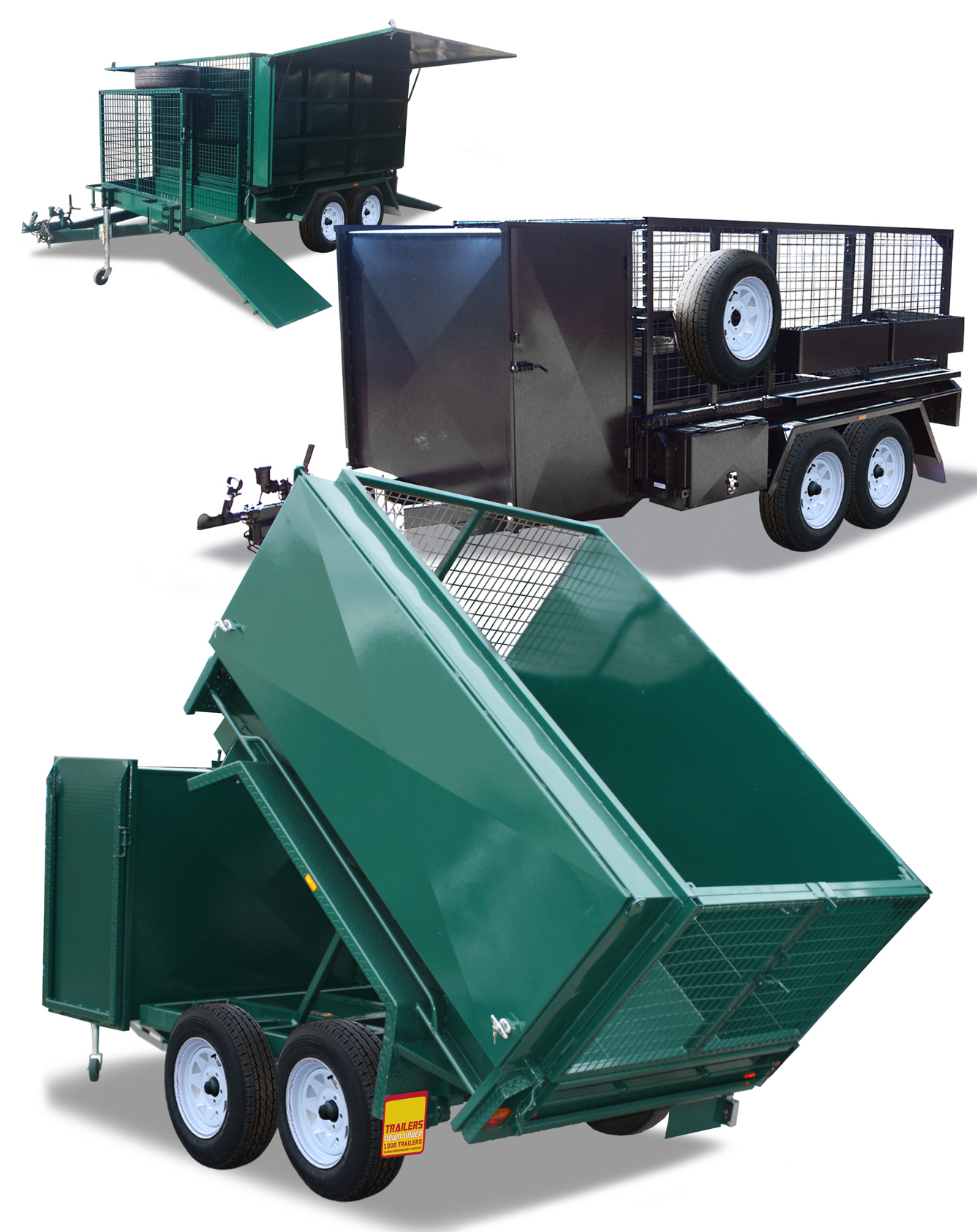 Gardening
Tandem Gardening Trailers
Trailers Down Under sells a range of dual / tandem axle Gardening Landscapers Trailers from a basic cage with a lawn mower carrier to a multi-function tipper with tool boxes, enclosed mower/ air compressor box and slide under ramps for your ride-on or to easily dump wheelbarrow loads. The tipper model is particularly useful for landscape gardeners for transporting mulch, soil, rocks and garden waste.
All the trailers at Trailers Down Under are engineered with versatility in mind so that you can customise your new trailer accordingly.
For your dual / tandem axle Gardening/ Landscapers Trailer, you may want to add side compartments, tipper function, a front or side tool box, slide under ramps, drop down ramp for a ride-on mower, spare wheel(s), ladder racks, Enclosed Lawn Mower Box with Ramp and more.
8′ x 5′    [2400 x 1500mm]
9′ x 5′    [2700 x 1500mm]
10′ x 5′  [3000 x 1500mm]
10′ x 6′  [3000 x 1800mm]
12′ x 6′  [3650 x 1800mm]
12′ x 6'6″ [3650 x 2000mm]
Up to 4500 Kg Gross Vehicle Mass [GVM]
2-Wheel Hydraulic up to 1990 Kg GVM
4-Wheel Electric with Break-away over 1990 Kg GVM
Hot Dipped Galvanised
Paint [Standard] – Charcoal, Silver, or Blue
Paint [Extra] – Red, Yellow, Green, Black or Custom
2ft [600mm] Medium/ Heavy Duty RHS
3ft [900mm] Heavy Duty RHS
4ft [1200mm] Heavy Duty RHS
RHS = Rectangular Hollow Section
RHS Chassis
Tie Down Rails
LED Lights
Smooth Floor
12″(300mm) Sides
Rear Tailgate
Barn Doors
Lawn Mower Platform with Ramp
Side Tool Box
Side Compartments
Ladder Racks
Rear Drop Down Ramp Door
Slide Under Ramps
Jerry Can Holders
Gas Struts for Side Compartment Door
High Sides (Up to 21″/ 530mm)
Checker Plate Floor or Full Checker Plate
Van Sides – Smooth Walls
Enclosed Lawn Mower Box with Ramp
Front Tailgate
Tie Down Rails All Around
Tipper Mechanism
Jockey Wheel
Spare Wheel
New Sunraysia Style Wheels with New Tyres